Pension Consultants Hosts Annual Pension Focus Conference
Last Updated: May 17, 2017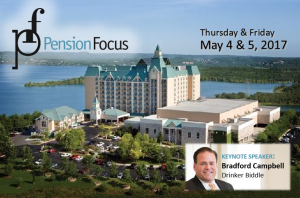 Over this past week, Pension Focus hosted another successful year of the Pension Focus Conference ("PFC").
Hosted at the beautiful Chateau on the Lake in Branson, Missouri, the PFC focuses on providing in-depth, retirement plan management education for both plan fiduciaries and plan administrators.
This year PFC was fortunate to have several speakers from various avenues of retirement plan management ranging from ERISA attorneys, to a consumer behaviorist, to a Department of Labor representative. Among those speakers was our nationally-recognized keynote speaker, Mr. Bradford Campbell, ERISA attorney at Drinker, Biddle & Reath, LLP.
One major topic of discussion included the Department of Labor's recent Conflict of Interest Rule (also known as the Fiduciary Rule). The 60-day delayed ruling was discussed in thorough fashion with the ultimate answer being wait-and-see from several of the presenters. Another hot topic was the trend of adding automatic plan design features (automatic enrollment and automatic escalation). Mr. Campbell believes that going forward most plans should have the automatic plan design features, and at some point, it may be mandated by the government as a way to close the gap on the current retirement readiness issues.
Other speakers in attendance included:
Mr. Jason Callan of Threadneedle Investments
Ms. Kelsey Bradbury with Lincoln Financial
Mr. Brandon Long, JD of McAfee & Taft
Mr. Mark Underwood from the Department of Labor
Mr. Eric Smith, JD of Conner & Winters, LLP
Ms. Lisa Lattan, JD with Utz & Lattan, LLC
Pension Focus would also like to recognize one staff member for their outstanding service with Pension Consultants. Bill Oliver has served Pension Consultants for more than 15 years, and has attended 15 Pension Focus Conferences. Heading into retirement, Bill offered these last words about PFC,
"I've been attending this conference for 15 years, and every year I manage to learn something new from the presenters."
Needless to say, Bill is a valued member of the PFC community and Pension Consultants will miss him. Best of luck, Bill!
Preparations for 2018 Pension Focus Conference are already underway. Make sure to keep your eyes on the lookout for more information! To learn more about next year's Pension Focus, contact us here!
(170517-1)
PCI's archived blog entries are dated, the rules and statutes referenced may have changed. The analysis or guidance within these blog entries may have become stale, dated, or no longer accurate. PCI will not update or change these entries to reflect the latest analysis or development.